Commercial storage market grows by 35% a year *
Kickstart your success with us!
On the 2020 TESVOLT Euro Tour.
Register now!
* 2019 forecast from IHS Markit on the expected annual growth of behind-the-meter commercial and industrial storage systems in Europe.
We help you shape up

for the future!
Energy storage solutions for industry and commerce ensure independence and sink electricity costs in the long term. Although it was only founded five years ago, TESVOLT has already become the technology leader in this industry. Steadily rising demand from customers and rapid market development are sources of significant growth and turnover potential — not just for us, but also for you as a solar engineer or electrical installer.
As a TESVOLT specialist partner, you can benefit from this lucrative, future-oriented field and drive forward the energy transition with us!
Visit us at one of our stops on the 2020 TESVOLT Euro Tour and learn all about new market trends, the TESVOLT product campaign and our exciting partner programme.
Taking part means taking the first step towards the future!

TESVOLT Euro Tour 2020
What to expect on our roadshow
Discover all the benefits of our energy storage solutions for industry and commerce, how to spread enthusiasm about our products among your customers and how we can support you with our specialist partner programme.
Our agenda from 10:00 a.m. to 4:00 p.m. (Doors open at 9:00 a.m.):
Trends, business models and opportunities in the storage market
Practical examples demonstrating specific benefits for you and your customers
Tips on planning, installing and selling commercial storage systems
An introduction to TESVOLT
The 2020 TESVOLT product drive
The TESVOLT specialist partner programme
— our range of services for a successful partnership with you
34 European locations.
One near you.
5
compelling reasons to choose TESVOLT
Become a specialist partner today
and prepare your business for the future!
Simplify your business
Battery storage systems designed for use in industry and commerce are complex. That's why our partnership with you makes things as easy as possible. With our comprehensive support, you can get started with confidence and peace of mind. All in the aim of simplifying your business.
Training and personal support
Product, sales and certification training
Comprehensive range of expert training sessions for service partners
Webinars on specialist topics
Personal support from our storage experts
Advice and consultations
Technical service line and remote support
Support with system design, commissioning and grid connection
Support with funding applications
Express deliveries on request
Marketing and sales support
Extensive marketing support, e.g. through joint specialist reports, documents about successfully completed projects and partner certificates
Access to TESVOLT's marketing shop with technical documentation, sales support (peak load and storage assistant, LCOS calculator) and a wide range of advertising materials for your company
Positioning and standing out from the competition
Stand out as a progressive, climate-conscious company contributing to the energy transition
Position yourself as the right partner for companies looking for innovative, sustainable solutions
Boost your performance
Our energy storage systems feature an impressive array of technology. The patented Active Battery Optimizer (ABO) ensures optimal cell charging and discharging and long-lasting, efficient performance with very low maintenance costs. Have a look at our short, animated film which illustrates the advantages this system offers over conventional solutions.
To the film
Future-ready design: batteries and battery modules can be upgraded or changed without problems even after years of operation.
Excellent cost-effectiveness thanks to efficiency of up to 98%.
Long service life: the ABO and premium battery cells mean our storage systems are built to last for 30 years or 8,000 full cycles.
High-performance without compromise with a discharge rate of 1 C.
Exceptionally safe: defects are detected by the control software and, if necessary, the system will shut down immediately. Our prismatic battery cells are equipped with five safety mechanisms to minimize risks even in the event of physical damage.
Secure new business
Our broad product portfolio covers all the areas where energy storage solutions can be used. Our storage systems function just as well at low voltage as at high voltage, can be connected to all energy producers and are scalable and can be expanded flexibly – from 10 kWh to 100 MWh. This gives you as an electrical installer or solar engineer huge potential to generate additional business from your existing customers.
TESVOLT product brochure
Energy storage solutions are the only way of efficiently harnessing the full potential of renewable energy. The success of the energy transition therefore lies in industry and commerce actively shaping the future. Electrical installers and solar engineers offering the right kind of solutions hold the key to this success and are fantastic partners to any companies looking to invest. Let's tackle the challenges of the energy transition together!
With more than 1,000 projects successfully completed worldwide, TESVOLT's energy storage solutions are helping to make power consumption more cost-effective and environmentally friendly.
One such example is in the city of Oldenburg in Lower Saxony, Germany, where our TS HV 70 Outdoor shaves expensive peak loads at an e-mobility charging station belonging to the company be.storaged. Another example is located on the premises of Voigt Logistik in Neumünster, Germany, where the TS HV 70 increases the self-consumption of power from the PV installation on site. In the Tyrolean Alps, the TS 40 has helped to provide a self-sufficient power supply to the German Alpine Club's Coburger Hütte mountain refuge, which is not connected to the public grid. A further success story is Seydaland Vereinigte Agrarbetriebe GmbH & Co. KG in the German state of Saxony-Anhalt, which has reduced its electricity costs by up to 8,400 euros a year thanks to our TS HV 70 energy storage system. Our list of satisfied customers is always growing!
Here you can download a PDF of detailed case studies.
Increase in self-consumption
Voigt Logistics
Off-grid power supply
Coburger Hütte
Grid system services
Grafschaft West Sussex
Battery storage systems for industry

and commerce made in Germany
TESVOLT develops sustainable energy storage solutions that benefit both the environment and our customers' finances. With passion, the prowess of German engineering and an eye for detail, we ensure that each of our products meets the highest standards.
Founded in the German town of Lutherstadt Wittenberg in 2014, we have laid down deep roots in our local area. In addition to setting up our company headquarters here, we have opened Europe's first Gigafactory for the efficient serial production of our energy storage solutions.
Performance and quality without compromise
We manufacture storage solutions with all the hallmarks of German craftsmanship — reliability, efficiency and financial viability. What's more, our systems function just as well at low voltage as at high voltage and can be connected to all energy producers.
TESVOLT storage systems are
extremely durable
flexibly expandable
exceptionally safe
sustainable and economically viable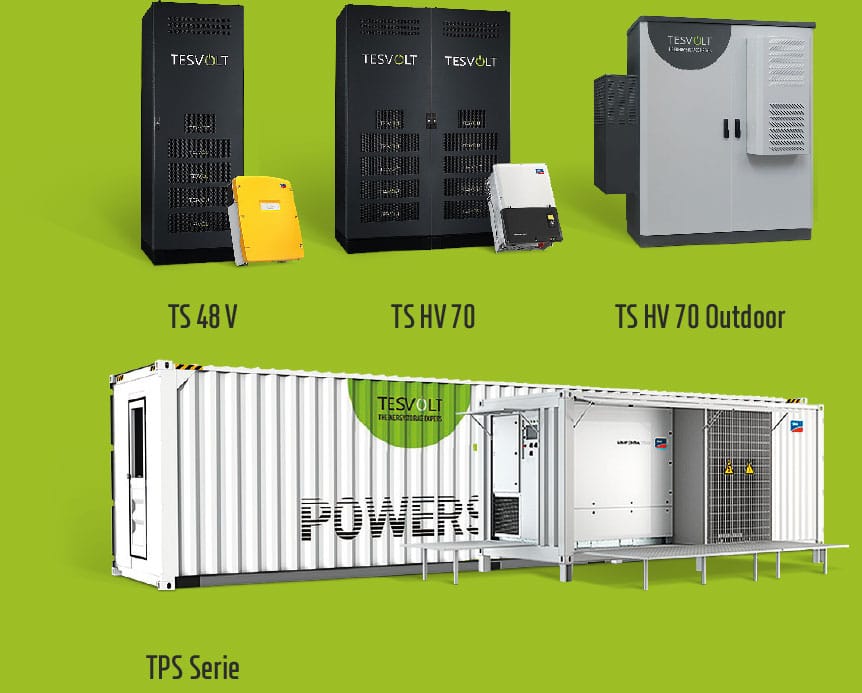 You can't take part in the 2020 TESVOLT Euro Tour but would like to get to know us in person?
Our storage expert will be happy to visit you.
You can set up an appointment here:
Visit us on

LinkedIn and Facebook!